Hello
we discussed yesterday which lang files are added to the  download packages and which not.  Long time ago only default tool lang files were included in download packages.  Today some third party modules are included others aren't.
I.e. OUblog and OUwiki are included but NGForum files are not.
Who can tell us how this is defined?
Ralf
Re: Criteria for langpacks in download packages
by
David Mudrák
-

Koen is right. AMOS puts all translated components into the language pack. However, it's actually a bit more complex.
As you know, strings in AMOS are registered at branches (versions). For add-ons (non-standard plugins), the branch is determined by the declared Moodle version in the Plugins directory. The AMOS translator shows the list of all branches next to the name of the component (see attachments).
You can see there that while the OUwiki's strings are available at branches 2.1, 2.2, 2.3 and 2.4, ForumNG has it's strings registered at the branch 2.4 only. That means there are no ForumNG strings to be included in the language packs for Moodle 2.3 and lower. Translations of those 2.4 strings are automatically included in all higher versions (i.e. in lang packs for Moodle 2.5 and 2.6) unless there is an explicit version for them at such branch.
Hmm. I just checked the Plugins directory and i realized there is actually ForumNG version available for Moodle 2.3, 2.2 and even 2.1. So in theory, the string should be in AMOS too. I can just guess there was an error during the strings import and the maintainer did not pay much of attention to it. We will probably need to improve the sync process between AMOS and the Plugins directory.
Thanks for raising this!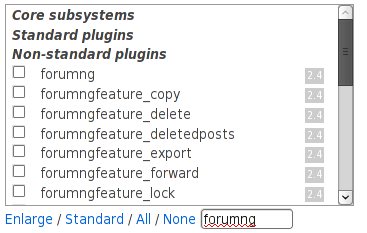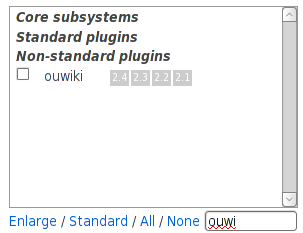 Re: Criteria for langpacks in download packages
by
David Mudrák
-