Question from a complete newbie to this...
We're interested in helping with Welsh translation.  I had a look at the Moodle 2.6 language pack downloads (http://download.moodle.org/langpack/2.6) which indicates the translation is 83% complete.
Searching in AMOS (select 2.6 as the version, ticking all components and ticking missing and outdated strings) shows Found: 19163 and missing: 18434.
That seems to suggest a much lower number of translations.
Am I comparing apples with pairs?  Are translations in the pack but not AMOS?  Am I missing something?
Any help gratefully received.
Anthony

Hi Anthony,
If you select 'All' Components, AMOS will find all strings used in the Moodle core and all add-on plugins.
In the part of 'Components', if you select 'Standard', those are the strings that make the core of Moodle, and the % that is reported as translated in the download page: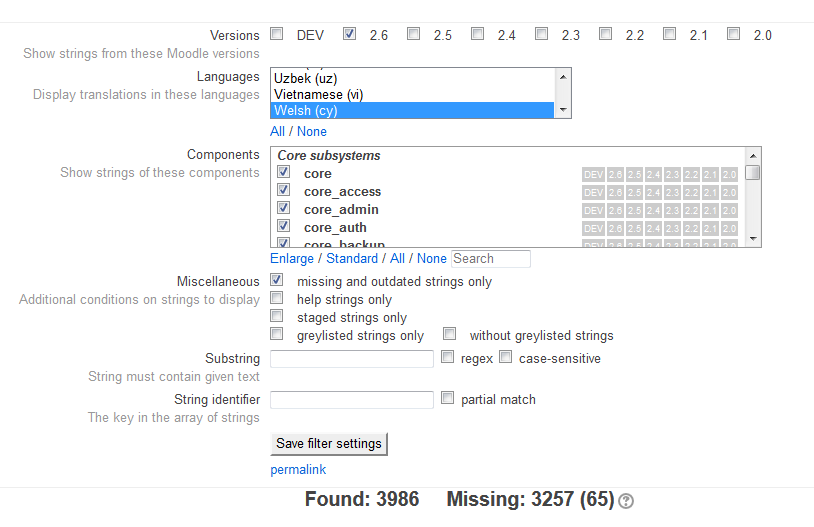 The Welsh language pack has 3986 strings in the Moodle core that need your work; 3257 are missing translation, and the remainder 729 strings have been updated and you need to aprove/fix them.
Very few language packs have translated the strings from most add-ons. I would suggest translating first the add-ons most needed/liked by your institution/country; or the most downloaded according to the page at https://moodle.org/plugins/stats.php.
I hope that helps.
Re: AMOS discrepancy with language download
by
David Mudrák
-
Me too.  That's very helpful thanks.