Many (but not all) of the new Moodle HQ 'Moodle 3.2 highlights' screencasts can now have their text subtitles translated into many languages. This is NOT done in AMOS.

The new screencasts are in

The instructions for translating them are available in https://docs.moodle.org/dev/Translating_Moodle_video_subtitles
This might be a good chance to translate English text into your local language and make these screencasts more useful for current or future Moodlers that speak languages other than English.


Re: Translating Moodle HQ screencasts on YouTube
by
Mary Cooch
-
Hello German and thanks for this. Which of the 3.2 highlights screencasts are NOT available for translation, as I will ensure that they all are? 

Re: Translating Moodle HQ screencasts on YouTube
by
German Valero
-

Hi Mary,
I am happy to correct myself:
As of today, all 12 videos about 'Moodle 3.2 Release Highlights' available at the https://www.youtube.com/user/moodlehq address, all have the option to add another language subtitle enabled.
When I originally looked at that addres, the main 'Moodle 3.2 Overview' video did not have the option for adding subtitles enabled, but now it has, and it even sports a Hungarian subtitle. I suspect David Mudrák has produced this subtitle; doesn' he ever rest? 

Re: Translating Moodle HQ screencasts on YouTube
by
Mary Cooch
-
Ah that is fine - the overview was produced by Perth across the hemisphere from me and I just opened it up for translating today,  For once it is not David Mudrák who translated the Hungarian (!) but Károly Fábricz  one of the Hungarian lang pack maintainers - as you can see in the Youtube credits :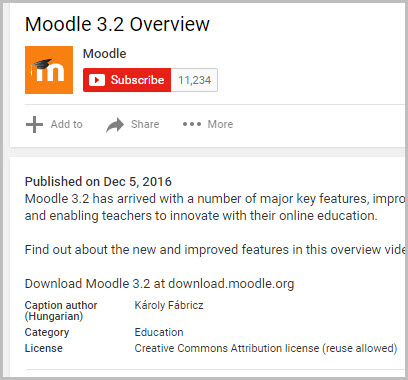 ... as indeed you can see your own name in a couple of the videos there too ;)