Moodle Mobile 3.3.0 available for translation
by
Juan Leyva
-
Hi all,
I just submitted the new strings for Moodle Mobile 3.3.0
You can find the strings to be translated in the component: local_moodlemobileapp version 2.6 (you only need to translate the strings for that version, no need to copy the strings in following ones).
This new version will be released the Friday 26th.
Thanks for your contributions!

Juan

Re: Moodle Mobile 3.3.0 available for translation
by
German Valero
-
Hello,
a lot of months ago i have translated most of the moodle mobile strings, but they don't appear in the mobile app even though a new version release was made. The same for the lithuanian strings that were ALL translated by a collegue.
Is there any problem? Will they be available with the release of the Moodle Mobile 3.3.0? 
Thank you in advance.
Best regards,
Ioanna

Hi Ioanna,
I created a tracker message for your greek translation (and the translations for some more languages). I hope we will get all these languages in the next release of the mobile app. https://tracker.moodle.org/browse/MOBILE-2156
Ralf
Arabic (ar)

Basque (eu)

Bengali (bn)

Bulgarian (bg) 

Catalan (ca)

Chinese (Simplified) (zh_cn)

Chinese (Traditional/Big5) (zh_tw)

Czech (cs)

Dansk (da)

Dutch (nl)

French (fr)

German (de) 

Greek (el)

Hebrew (he)

Hungarian (hu)

Italian (it)

Japanese (ja)

Lietuvių (lt)

Norwegian (no) 

Persian (fa)

Polish (pl) 

Portuguese (Brazil) (pt_br)

Português (pt)

Romanian (ro)

Russian (ru)

Spanish (International) (es)

Spanish - Mexico (es_mx)

Swedish (sv)

Turkish (tr)

Ukrainian (uk)

Thank you very much for the prompt reply and the immediate actions.
Best regards,
Ioanna

Hi Ioanna,
could it be that Greek (el) is already implemented in Moodle Mobile 3.3? 
The Moodle Mobile starts with the OS language when nothing is set in the language menu. Go to the main menu in Moodle Mobile, go to the bottom and look for the "Settings". You will find "General > Language". Please have a look to my screenshot.
The menu item above English seems to be Greek ... sorry, I can't read it but the short item is (el) and this should be above (en). And Lietuvių (lt) is missing ... it should be found between Italian (it) and Niederlande (nl).
Ralf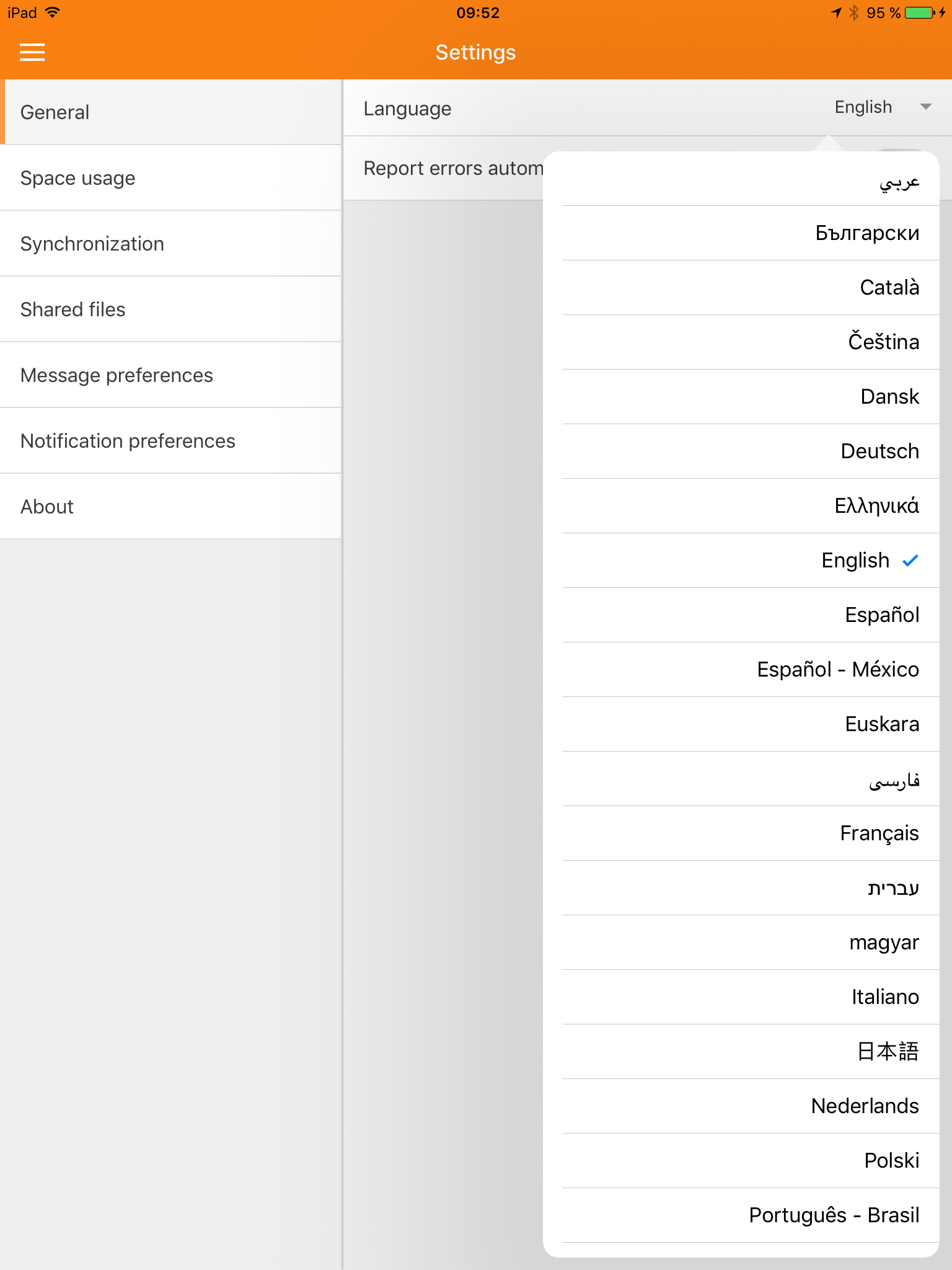 Hello,
after contacting with the greek language maintainers in Amos, the greek language appeared in the list. I really don't know what the problem was. I had cleared device's cache, login with different account, re-install the app. Anyway, problem for greek language solved. 
But the Lithuanian language still not appearing, and they had completed the translation in Amos earlier than me. Let's hope the strings will be available at the next version.
Thank you very much,
Ioanna
Re: Moodle Mobile 3.3.0 available for translation
by
Berta Maroto
-
Hi,
Ralf is right, translations must be accepted (otherwise we don't get them), in any case I'll double check that all the languages translated are displayed in the app for the next release.
Regards, Juan
Thank you very much all for your replies.
Shall i contact with the Lithuanian language pack maintainers to re-accept the translations? (in the Amos translation tool they seem to be accepted)
Ioanna